Benefits and perks
Being fully aware that our employees are our greatest assets, we offer competitive benefits package that includes health benefits, paid lunch, gym coverage, professional trainings…and much more. You are eligible for the benefits on the first day after successfully passing our trial period.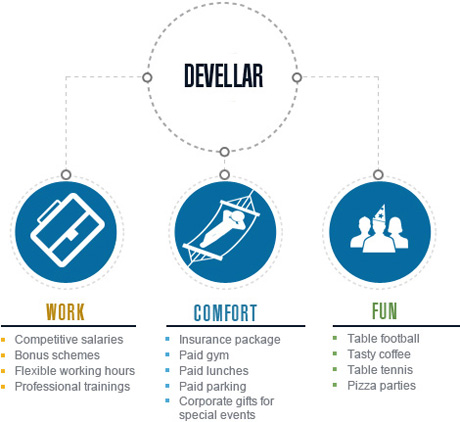 Why work at Devellar
Financial rewards: competitive salary and performance-based incentive program
Health and Wellness rewards: medical coverage, fitness reimbursement programs
Educational rewards: external and internal trainings, unique expertise in e-commerce field/ international projects, personal development training programs, challenging tasks you can be proud of resolving
Work-Life balance: paid time off sick leaves and vacations, flextime allowing employees to balance the demands of work and personal life
Other benefits like regular team-buildings, bicycle parking near the office, unlimited espresso, tea and cookies at the kitchen, corporate events, comfortable offices location and of course our the opportunity to work with our amazing team!