Devellar provides excellent opportunity for self-starters who want to bring out their full potential being at the same time adequately rewarded and appreciated for the work done.
It's important for us to hire people with the same core values as that's what will help us work as efficiently and well-consolidated as possible. We harness the power of innovation in order to help our clients meet their goals and solve their problems.

Competitive compensation

Professional
training courses

Flexible
work hours

Medical
insurance

Performance based incentive system

Reimbursements
for athletic activities
Understanding that our workers are our most valuable asset, we strive to provide our employees with the most comfortable working conditions. For this purpose we created our compensation and benefits package that is regularly reviewed and updated. In addition to having a chance to build career, learn from the professionals of the industry, deepen your knowledge in the sphere you've chosen, you will have access to the benefits and work-life balance initiatives we offer, including flexible working hours and alternative work schedules, group-sponsored activities, eligibility for our insurance programs and friendly environment.
Location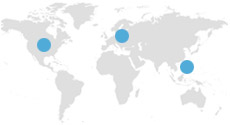 Having development office in Latvia, we also have representatives in Cyprus. At the moment we are looking for talented specialists to join our team. Please see list of vacancies here.