Devellar to attend EuroShop 2014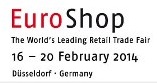 EuroShop is the world's leading retail trade fair that will take place in Düsseldorf on 16-20 February 2014. Being at the forefront of custom software development in general and eCommerce solutions in particular, Devellar has built sufficient knowledge base and strong digital know-how to help retailers better meet their clients' most sophisticated needs. We just can't wait to share it with other event attendees.
We invite you to book a live meeting with our rep during the event to discuss possible win-win opportunities between our companies. Not sure whether you need this meeting? Please check out our eCommerce offering and portfolio.
Looking forward to seeing you soon in Düsseldorf.